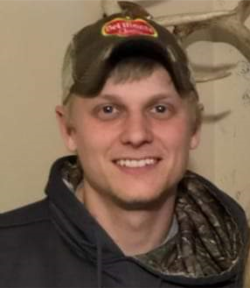 Eric Novey started as the new CIG/RCPP Project Coordinator on April 6. This is the work that Sara Berges had previously been doing before she started working for NRCS. Eric grew up in Prairie du Chien, WI. He has family in the Lansing, Iowa and Prairie du Chien, Wisconsin areas. Eric graduated from the University of Wisconsin- Platteville with a Bachelor of Science degree in Soil and Crop Science. Prior to graduation he was a Natural Resources Manager intern at The Galena Territory in Galena, Illinois. After graduation he has worked the past 7 years as an agronomist for a 12,000-acre commercial vegetable farm in central Wisconsin. This operation grew many crops including potatoes, sweet corn, snap beans, peas, carrots, beets, field corn, and soybeans. The 5-county area in Wisconsin, where worked, has the widest adoption of cover crop use in the state.
Eric says he applied for the job in Allamakee county because he has an interest in cover crops and soil health. He Is looking forward to being closer to his family as well as taking advantage of the many outdoor recreation opportunities North East Iowa has to offer. Eric's goal is to help growers reduce erosion, improve soil health, and increase yields.
Eric enjoys hunting and fishing in his free time.